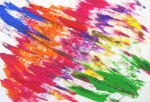 I love socks – crazy colors, mad stripes, mismatched patterns.  Wild socks make my feet happy.  In my bell bottomed youth it was a point of pride for me to be wearing the wildest socks I could find. In those bygone days light weight knee highs in psychedelic patterns were easy to find and I had them all. A peek beneath my cuffs would dazzle the eye. I was the same way about my bikini panties, but that's for another post. It didn't matter what the occasion, if I wore long pants I wore mad socks.
Then I grew up, joined the corporate world and switched to pantyhose. Plain boring nude or suntan pantyhose.  There was no role in the board room for multicolored barber pole stripes, purple paisley, Peter Max images, or fluorescent tie-dye even under the most conservative navy blue slacks.  Ah, the things we sacrifice in the quest to climb the ladder.
Over time I forgot about my socks. When the pantyhose years ended I switched to sweat socks.  Basic white, maybe a stripe around the top or a pastel pompom on the heel. Socks were strictly utilitarian. Something the keep my sneakers from reeking. No pizazz, no joy, just getting the job done. The kind of socks I hate to deal with in the laundry because they all look alike but aren't quite so they're a pain to sort and match. And I had to sort and match them because . . . well, because I had too.
Fortunately I am in recovery from being grown up and have rediscovered my love of crazy socks.  A trip to Costco brought it all back. Wandering the aisles while my husband worked the shopping list I spotted a 5-ft tall display of stripes. Black background and every bright colored stripe you can imagine.  I didn't buy them but they stayed on my mind. On the next shopping trip they were gone – oh well.  Change of season, change of styles, new inventory and now packages of brightly striped footies beckon.  I grabbed one of each and my romance with socks was reignited.
Putting on a pair of orange and bright pink striped socks adds a little zest to the morning. It's like I have a secret in my shoes.  It pleases me and sometimes just that little bit of extra pleasure can change the tone for the whole day.
If my life changes to where I need to wear something other than sport socks, my wardrobe will contain the loudest, most colorful, craziest trouser socks I can find. Because crazy socks make me happy. And being happy is the whole point – of everything.
If you like socks, check out some of these:, Sock Wizard, Absolute Socks (I am not affiliated with these companies, I just like their socks.)