I have a new toy. An air eraser.  No, it's not a device for getting rid of unwanted air. It's a mini sand blaster.  Here are the first things I created using it.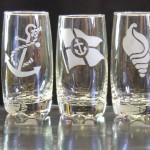 A set of nautical themed tumblers (thank you Dollar Store)
.
.
.
.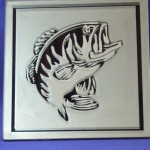 A bass carved on a sample piece of automotive glass. It looks like you're seeing double because the backside is mirrored.
.
.
.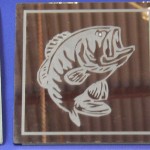 That bass again. This time it's on the mirrored side so you get a nice view of my shop ceiling.
.
.
.
.
Now I get to start cruising yard sales in search of interesting glass stuff to decorate. Guess what everyone is getting for Christmas?